Education has a new name and it is called "genuine learning".
This is so because today, education is not just confined to reading from textbooks, solving bulky sets of questions for homework and mugging up concepts to come first in exams only to forget everything for good as soon as you get out of school!
Today, it is so much more than that. The face of academics is changing and it is changing fast. Let us take a step forward and talk about five educational innovations that broke all shackles of monotonous, regimental and conventional way of educating students.
You might feel shocked at first. But sooner or later, you will be overwhelmed to see the changes that have taken place in these classrooms.
Have a look:
Denmark
Kindergartener's…into the wild
The Scandinavian countries are the happiest in the world. Do you want to know why? Because they don't make anything as important as education so regimental. Well, that's just our opinion. But kindergartners in Denmark are busy running around in the forest and just enjoying the nature.
Yes!
While majority of the world is busy confining children as young as 3 years old in a classroom, the teachers in Denmark have taken an entirely different route to rouse the curious young minds. The first "forest kindergarten" model emerged in Northern Europe in the 1960s.
---
United Arab Emirates
Everything is 3 dimensional
Imagine a teacher who is not a real person, but a hologram. Wouldn't that be amazing? This is the reality at GEMS Modern Academy, Dubai where students wear 3D glasses to learn. You would probably find them in a dark lecture hall, watching a hologram of the human brain or planets in the solar system.
The classrooms and labs at the school are connected by a super-high-speed fiber optic network. Science lessons have been given quite a makeover, thanks to this advanced form of technology. 3D learning certainly draws the attention of students and helps them understand abstract concepts.
---
South Korea
Meet your teacher. She is a robot!
Yup. She is for real. In some South Korean classrooms, student receive their English grammar lessons from an egg-shaped robot known as Engkey. She has a cute humanoid face but don't be fooled by her intelligence.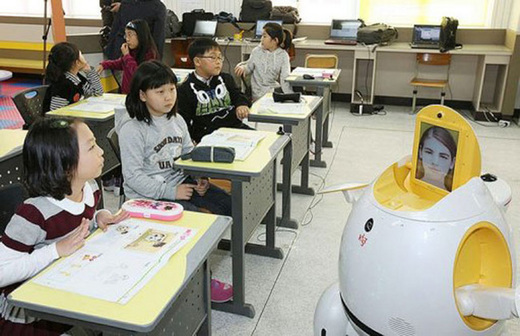 She helps address the shortage of native English teachers in the country. We feel it is a fantastic innovation! If you can't bring a teacher on-board, make one. In addition to this, there are other types of robots also that assist students in checking in for the class, inquire about their moods and also teach them how to dance.
---
England
Go paperless, use technology
At the Essa Academy in Bolton, all students use an iPad to study. The classrooms are equipped with state-of-the-art digital projectors and super speed wifi portals. At one point, this school was not doing well at all. But technology turned out to be a boon for it.
The most interesting part is that all classes are organized through Apple's iTunes U that lets the students keep their digital resources on a single platform. Besides, students also have the liberty to design their own digital courses.
---
India
'Tis the age of flipped classrooms
An average Indian user spends almost 3 hours and 20 minutes on his or her mobile phone. Such an impressive figure has definitely opened the gates to m-learning. A combination of offline learning tools and face-to-face content distribution, the concept of flipped classrooms has steadily revolutionized the education sector in India.
If we sit down to define it, this concept is nothing but includes mastering a particular subject using different modes of learning such as videos, student-teacher interactions, practical assignments and on-field projects to name a few.
These lecture videos can be easily downloaded to view on smartphones. Live interactions are possible thanks to a multitude of software such as Skype. A recent study by Central Square Foundation revealed that a whopping 70 per cent of teachers in India have embraced edtech.
Moreover, mobile apps such as Oust me.com will help you cover the entire syllabus in a flash! It offers a range of multiple choice questions (MCQs) on an array of subjects such as social science, science and math. Spend at least an hour on taking such tests to be able to cover the syllabus quickly.
Most quizzes on such apps are short, not lasting for more than 5 minutes. This means that your attention span will also remain stable, no matter how difficult the quiz is. Learn while you play! You can even compare your performance with fellow peers and classmates.
So which country's teaching methods inspire you the most? Drop your comments!
asavari
https://oustlabs.com/wp-content/uploads/2016/09/Oust-Logo.png
asavari
2016-04-30 04:51:47
2016-04-30 04:51:47
5 Innovations In Education Across The Globe